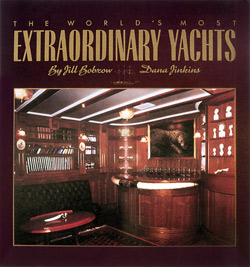 The World's Most Extraordinary Yachts
By Jill Bobrow and Dana Jinkins
The trappings of the really rich are many, but none are more characteristic than yachts. In this vintage volume written in the mid 1980s, viewers board 60 of what were at the time, the most extraordinary private vessels. The 412-foot royal yacht Britannia is the biggest, and the smallest depicted is the 42-foot Lars Porsena—a landing craft whose bow drops down to release a dune buggy. The oldest is the stately three-masted 145-foot Shenandoah, built in 1902. Other great sailing yachts include the 203-foot Jessica, (now called Belle Aventure), and the 1983 winner of the America's Cup, Australia II—a bare bones affair that cost more than many of the book's fanciest. By 21st century standards, some of these yachts hold their own; others are totally dated. This book is a collector's item for those interested in seeing the evolution of yachts over the last 30-some years.