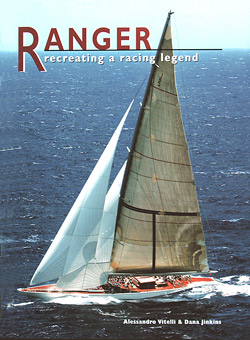 RANGER Recreating a Racing Legend
By Alessandro Vitelli and Dana Jinkins
Ranger was the first of the "new" J-Class yachts built since the heyday of the Golden era of J-Class racing in the 1930's. She is a breathtaking work of art and at the same time she is a showcase of modern marine technology. She is John Williams' fifth yacht, reflecting two decades of dedication to sailing and life afloat. This is the story of the J-Class, the history of the original Ranger, and the tale of how a visionary owner such as John Williams decided to embark upon the extraordinary project of recreating a true classic.
Written by Alessandro Vitelli. Book design by Dana Jinkins. Produced by Concepts Publishing, Inc.